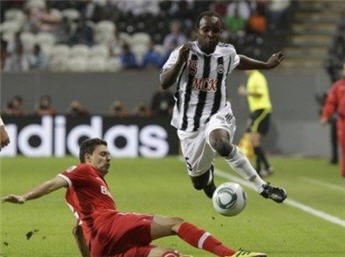 Alain Kaluyituka may not yet be a household name outside his home continent, but keen observers of African football have been aware of his goalscoring exploits for TP Mazembe Englebert for some time now. However, given the rate at which the Congolese forward's star is rising, it may not be long before he is a household name the world over.

Joint-top scorer in the CAF Champions League this season, Kaluyituka opened his account at the FIFA Club World Cup UAE 2010 during Mazembe's 2-0 semi-final victory over SC Internacional do Porto Alegre. "I just had to score – I've thought of nothing else since we got here," the striker admitted to FIFA.com, content with having notched his team's second goal in the game.

"The collective performance of the squad is obviously the most important thing, but that doesn't mean I wasn't desperate to hit the net," he said. "I've scored a lot of goals in Africa, but I knew it would be tougher here. I just wanted to prove to myself I could do it, and leave a mark on the tournament. And it wasn't a bad strike either!"

The goal was indeed impressive, Kaluyituka cutting in from the left-hand side before letting fly with a powerful right-foot shot that beat Colorado goalkeeper Renan at his near post and sealed an unlikely win for Les Corbeaux.

"We're aware of the historic nature of our performance," said the Congolese international, in reference to his club breaking new ground as the first team from outside Europe or South America to reach the final. "I don't think anyone, our opponents included, thought we could do it. In the back of their minds, perhaps they saw us as a little team they would beat easily, which is something that Pachuca were possibly guilty of in the previous round. But now the little team has made it all the way to the final."

While Mazembe's players may still be in a daze about exactly how they have achieved such a feat, there is certainly no doubt as to why: "From the outset, we just wanted to take things one step at a time. The first goal was to win the opening match, so that we could at least say that we'd done better than last year," explained the young African. "And then we took the same approach in the dressing room before the second match. And we'll do the same for the final, even though we're likely to have a much more difficult match in store for us."

Kaluyituka is right to be wary, because the adversary lying in wait is none other than FC Internazionale Milano. "One of the best teams in the world," he said, aware that a victory over the UEFA Champions League holders would provide his club with much more than the title of world champions.
"We get the impression that African football still isn't taken as seriously as it should be. Maybe our run will change a few minds out there, and help Africa to keep pressing forward," pointed out Kaluyituka. "You don't take part at the Club World Cup by accident – we deserve to be here as the best team in our continent. We already made an appearance last year, but we weren't really ready to step up a level. This year, we decided that if we were going to be taking part, our aim would be to win the whole competition."
Another of his stated objectives is to perform well enough to attract the notice of European scouts, thereby possibly opening the door to a transfer abroad one day. "I'm happy at Mazembe, but I do hope to play in Europe sometime in the future," admitted the skilful front man, who had a trial with Ligue 1 side Arles-Avignon over the summer. "It went well, but the transfer never happened for financial reasons, and also because we lost one of our strikers, Mabi Mputu, to suspension, which affected my own situation. Both the coach and chairman asked me to stay, and when I look at where I am today, on the verge of playing in the Club World Cup final while Arles-Avignon are bottom of the French league, I think I made the right choice."
On Saturday, Kaluyituka will cross swords with an African player who has won all there is to win in Europe and is greatly admired by TP Mazembe's squad, namely Samuel Eto'o. "Eto'o is an example to all of us," he said. "He's managed to establish himself at the very highest level, while never losing touch with his African roots. For every forward on this continent, he is the model to follow."

The striker is certainly looking forward to facing his illustrious opponents, saying: "It'll be an honour to play against Eto'o and his team. We're all keen to show that we can mix it with the big boys, and perhaps even beat them. If we perform as best we can, Africa will be proud of us."
Maybe then the name Kaluyituka will be a little more familiar to football supporters the world over.