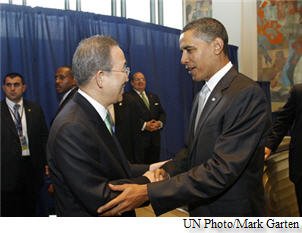 Secretary-General Ban Ki-moon and United States President Barack Obama discussed a wide range of issues of international concern during a meeting at the United Nations Headquarters in New York, where the high-level debate of the General Assembly got under way today.
Discussions between Mr. Ban and Mr. Obama focused on the situation in Sudan, the Middle East peace process, women's empowerment, climate change, Afghanistan, Iraq, the Democratic Republic of the Congo (DRC), Pakistan and the Millennium Development Goals (MDGs), according to information released by the Secretary-General's spokesperson.
They agreed on the importance of women's empowerment on a number of issues, including development, peace and security and human rights. They also agreed on the importance of ensuring that the UN was able to implement its various important mandates.
The Secretary-General welcomed Mr. Obama's commitment and focus on the Middle East peace process.