IRIN | Published on April 23, 2007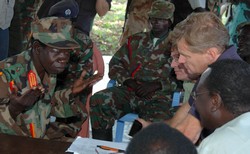 Photo: Euan Denholm/IRIN

Vincent Otti (left) deputy leader of the LRA talks to Jan Egeland (right), the then UN Emergency Relief Coordinator, at Ri-Kwangba near the border between Sudan and the DRC on 12 November, 2006

KAMPALA , 23 April 2007 (IRIN) - Officials from the Democratic Republic of Congo (DRC) army and the United Nations will verify that Uganda's Lord's Resistance Army (LRA) rebels have assembled near the DRC-Sudan border as agreed.

The rebels are expected to assemble at Ri-Kwangba before peace talks resume on Thursday between LRA leaders and Ugandan government officials in the southern Sudanese capital of Juba.

"The FARDC [DRC army], with support from MONUC [the UN mission in DRC], will verify the movement of the LRA to the designated area of Ri-Kwangba," stated a communiqué signed after a meeting in the Ugandan capital of Kampala on Saturday.

The meeting was attended by the Ugandan army commander Gen Aronda Nyakairima, his DRC counterpart Kisempia Sungilanga Lombe, and Babacar Gaye from MONUC.

"Both MONUC and the Congolese army will report any movement to the contrary," the statement added.

A week ago, the Ugandan government and the LRA renewed a ceasefire agreement that expired in February. They also agreed to resume peace talks on 26 April to end a brutal, two-decade insurgency that has wrecked the northern region. 
 


MONUC and the Congolese army will report any movement to the contrary

The agreement, reached at a meeting chaired by the UN envoy to areas affected by the conflict, former Mozambique President, Joaquim Chissano, allowed the rebels to assemble in Ri-Kwangba rather than two neutral camps as agreed in earlier ceasefire agreements.

The two armies also mapped out eight measures to promote military cooperation against Ugandan rebel groups and what they called "other negative forces" based in the DRC.
 
Talks between the LRA and the Ugandan government stalled in December when the rebels walked out, saying they feared for their lives. They also demanded a new venue and new mediators, accusing the southern Sudanese government of bias.
 
The talks aim to end a conflict that has raged since 1988, when the elusive LRA leader Joseph Kony took over leadership of a two-year-old regional rebellion among northern Uganda's ethnic Acholi minority. Nearly two million people have been displaced by the conflict.

Related story
 
vm/mw