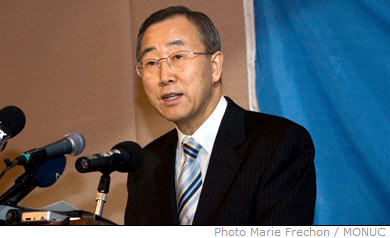 In a unanimously adopted resolution on Thursday February 15 2007, the UN Security Council extended MONUC's mandate until April 15 2007, highlighting that the Democratic Republic of the Congo continues to pose "a threat to international peace and security in the region."

The extension of MONUC's mandate came as Secretary-General Ban Ki-moon called on Congolese authorities to focus on security sector reform and tighten up legislation covering business practices relating to diamond and other mining, because too much of the profits of these industries are used to fund armed conflict.

Separately, Mr. Ban made his remarks in his latest report on the DRC, which looked at whether or not sanctions should be imposed on the country, as a way of cleaning up the mining industry.

However, given the uncertainty of whether sanctions would work against such practices, as well as that in December the country swore in its first democratically elected President, the Secretary-General recommended against imposing them.

"While sanctions may inconvenience their targets, the general effect will be to diminish only marginally the general practices they are designed to curtail. In most of the eastern Democratic Republic of the Congo, they will do little to reduce the use of force in extracting minerals, diminish fraud and encourage responsible corporate behaviour," Mr. Ban wrote.

He also pointed to a more general concern about possible UN sanctions against the DRC.

"Imposing United Nations sanctions now may be perceived as punitive, whether they target State actors or not, and whether they are intended to reflect on the capacity of the State to manage its affairs or not. This might be another reason why United Nations sanctions may not be advisable at the present time," he said.

Instead, Mr. Ban urged the government to reform the security sector and fight corruption, but particularly to tighten up on investors in the natural resource sector by making sure they adhere to regulations. He called on the private sector to set better business standards itself, while also recommending setting up a cross-border commission to prevent corruption at the frontier.

"The question remains: what is likely to bring more order to the production and marketing of the Democratic Republic of the Congo's natural resources in a way that will allow greater security for the artisanal miners, less exposure to extortion by armed groups and the assurance of more revenues for the State and its public services?" he wrote.

The Government must first and foremost institute security sector reform and improve trust and transparency by monitoring and fighting corrupt practices and taking effective action against violators, the report stresses.

The Secretary-General's report was itself based on recommendations made by the so-called Group of Experts who visited the DRC late last year to look at the whole issue of sanctions, during which they found that while linkages still remain between armed groups and the exploitation of natural resources, the situation has become ever more complex.