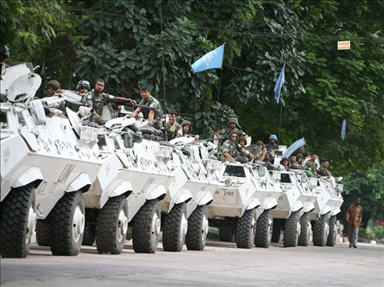 Fatal attacks against United Nations personnel last year claimed the lives of at least 22 peacekeepers and civilian staff, mostly in southern Lebanon, the Democratic Republic of the Congo (DRC), Haiti, Sudan, and Afghanistan, the world body's staff union said today, as it called for greater effort to bring those responsible to justice.
"Apprehending and punishing the perpetrators would go a long way to address this situation. Very seldom those who attack and kill United Nations personnel pay for their crimes," said Stephen Kisambira, President of the Staff Union. Last year's figure is lower than the fatalities in 2005, when 32 UN staff were killed worldwide.
As well as the killings in 2006, there were also "numerous violations of the independence of the international civil service around the world, and staff members were detained or expelled in Eritrea," the Union said.
The most deadly place for the UN last year was southern Lebanon during the month-long war between Israel and Hizbollah, when 16 personnel from the world body were killed or wounded, according to figures from the Staff Union's Committee on the Security and Independence of the International Civil Service.
The worst incident occurred on 25 July when an Israeli air strike hit the building and shelter of a UN observer post in the town of Khiyam, southern Lebanon, killing four observers: Du Zhaoyu, 34, of China; Hans Peter Lang, 44, of Austria; Paeta Hess-von Kruedener, 43, of Canada; and Jarno Mäkinen, 29, of Finland.
Other deadly attacks occurred against operations worldwide, particularly in the DRC on 23 January when eight Guatemalan peacekeepers serving with the UN Mission (MONUC) were killed and five others wounded by suspected elements of the Ugandan rebel Lord's Resistance Army (LRA).
On 15 March, two gunmen attacked a compound of the UN High Commissioner for Refugees (UNHCR) in Yei, southern Sudan, killing UNHCR guard David Batali and critically wounding Nabil Bahjat Abdulla, 48, of Iraq, who died later that month.
In Afghanistan, Sarajudin Noorzai, an Afghani driver serving with the UN Children's Fund (UNICEF), was killed on 12 May by a rocket-propelled grenade while his UN vehicle was travelling between Badghis and Herat.