Monuc | Published on August 30, 2006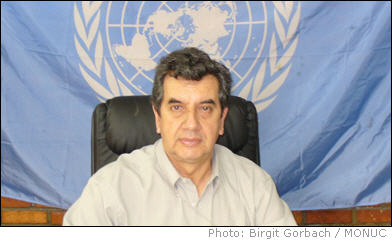 At the weekly MONUC press conference on this Wednesday August 30, MONUC reiterated to the media 'not to confuse information with propaganda', as well as appealing to the Congolese people to remain calm.

MONUC deputy Spokesman Jean-Tobie Okala made reference to the rumour and speculation that appeared in some Kinshasa media, following the recent unrest of August 20 to 22 last.

"The sad events of August 20 to 22 last have made us all reflect on the future of this country. The media were certainly not responsible for these, but they have an important role to play in informing the public on all election related events.

"For the next round of the elections, and throughout the post electoral period, MONUC appeals to the media to respect the code of conduct. We also ask of them to separate information from propaganda, and to refrain from publishing hate messages that would incite the population to violence."

Furthermore, MONUC appealed to the population to remain calm.

"We appeal to the population to disregard rumours which might be used to lure them into acts of violence, insults or tribalism. We remind everyone again that the time of gaining power through the use of arms is a thing of the past in the DRC," Mr. Okala said.

On this subject, MONUC welcomed the spirit of cooperation and dialogue which was demonstrated by the two presidential candidates, Mr. Kabila and Mr. Bemba, following the eruption of violence between their respective security forces early last week.

This was following the agreement of delegates from both candidates to the creation of a Joint Commission, involving delegates from both presidential candidates, which has been subsequently subdivided into two sub-commissions of enquiry.

The first is an independent sub-commission of investigation into the recent unrest, while the second is tasked with defining the rules of conduct in the run up to the presidential second round, slated for October 29 next.

Meanwhile, 33 additional Kinshasa media stations have reached a commitment with HAM - the High Authority of the Media- in relation to the respect of the media code of good conduct, following the broadcasting of elections related political hate messages in recent weeks.

They follow another seven media stations who have reached agreement with HAM in this regard, which means that every Kinshasa media station is now fully committed to respecting the code of good conduct, in the run up to the second round of presidential elections.
At this occasion, Jean-Tobi Okala formally presented the new director of the Public Information department of MONUC, Mr. Mario Zamorano, and welcomed him to the team.