IRIN | Published on August 29, 2006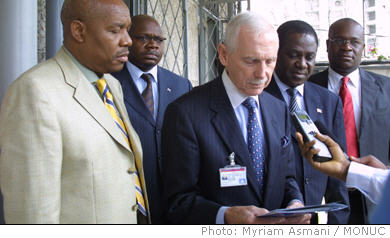 The opening session of the Joint Commission, which was set under the aegis of MONUC, opened today. The Commission was set up following the unrest which took place in Kinshasa from August 20 to 22, 2006. 

The first meeting between the political delegates for Mr. Kabila and Mr. Bemba, the two second round candidates for the presidential elections, proceeded in a constructive atmosphere. The purpose of the meeting was to validate the terms of reference of the Joint Committee. The delegates (three from each group) decided on the creation of two sub-commissions.

The first is a sub-commission of independent investigation, which will be charged with establishing the facts on the events from August 20 to 22 last in Kinshasa.
The other sub-commission will have the task of defining the code of conduct so that the election campaign for the second round of the presidential election, and its post-electoral period, are held in peace, in accordance with the will of the Congolese people who voted massively on July 30.

In addition, the two parties promised full collaboration with the sub commission of independent investigation and pledged to work for the continuation of the electoral process, in accordance with the Overall and Inclusive Agreements.

Accordingly, the two sub-commissions will begin their work on Wednesday August 30 2006.
Kinshasa,  August 29 2006