Monuc | Published on August 17, 2006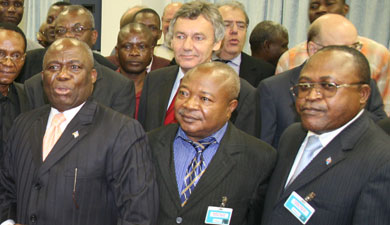 The HAM decided on Wednesday July 16 2006 to suspend three Kinshasa television stations for 24 hours, for non respect of the laws governing the freedom of the press.

This disciplinary measurement which relates to RTNC 1, CCTV and RTAE, will come into effect from Thursday July 17 at 5am.

According to the press release distributed by HAM, the measure is necessary as "the Congolese press in general, and the audio-visual one in particular, has to observe the Laws of the Republic, as well as the Code of Ethics and Godd Conduct."

We had multiple complaints regarding these tv stations
They explain that the decision was made "considering the multiple complaints from Congolese as well as foreign people in connection with the repeated diffusion of the shocking images with a strong emotional load" on the quoted stations.

The images relate to the death of the Congolese National police officers "following the inhuman, cruel and degrading treatment inflicted on them at the time of the manifestations of July 27, 2006", as well as images on 'the bombardment of the populations of the province of Equateur during the war of 1998."

The Congolese television stations, often associated with election candidates, have violated the Code of Ethics and Good conduct several times during the election period.
HAM already took other measures against the media in the last few months. HAM concluded by reminded the public that the HAM offices were the subject of looting during a political demonstration in Kinshasa on 27 July last.