BBC | Published on September 13, 2009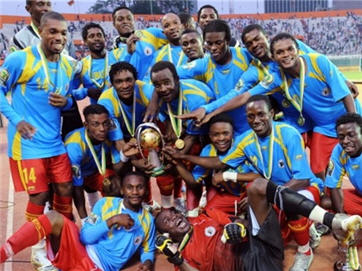 The inaugural Champions of the African Nations Championship, DR Congo will have to beat Gabon over two legs to make it to the 2011 edition.
Also known as CHAN, this tournament is specifically for players competing in their country's domestic league.
The 2011 CHAN will take place in Sudan and will double in size from eight to 16 teams.
Countries hoping to be in Sudan in two years' time will qualify from six zones.
The preliminary rounds will take place in November and December and feature the likes of Sierra Leone, Mauritania and Djibouti.
The main qualifying round will take place in March 2010, with some countries just needing to win just one two-legged tie to secure their place in Sudan.
Sudan qualify automatically as hosts of the tournament.
---
The 2011 African Nations Championship qualifying draw
North Zone
First Round
Algeria* v Libya
Tunisia* v Morocco
First leg: March 12-14/Second leg: March 26-28
Winners qualify for finals
West Zone A
Preliminary round
Mauritania v Sierra Leone
First leg: Nov 27-29/ Second leg: Dec 11-13
First round
Guinea* v Mali
Senegal* v Mauritania or Sierra Leone
First leg: March 12-14/ Second leg: March 26-28
Winners qualify
West Zone B
First round
Togo v Ivory Coast*
Burkina Faso v Ghana*
Niger v Nigeria*
First leg: March 12-14/ Second leg: March 26-28
Winners qualify
Central Zone
Preliminary round
Congo v Equatorial Guinea
First leg: Nov 27-29/ Second leg: Dec 11-13
First round
Congo or Equatorial Guinea v Cameroon*
Gabon v Democratic Republic of Congo (holders)*
First leg: March 12-14/ Second leg: March 26-28
Second round
Losers Congo, Equatorial Guinea and Cameroon v losers Gabon and DR Congo
First leg: May 21-23/ Second leg: June 4-6
First and second round winners qualify
Central Zone East
Preliminary round
Djibouti v Somalia
First leg: Nov 27-29/ Second leg: Dec 11-13
First round
Burundi v Uganda*
Eritrea v Rwanda*
Ethiopia v Kenya*
Djibouti or Somalia v Tanzania*
First leg: March 12-14/ Second leg: March 26-28
Second round
Burundi or Uganda v Ethiopia or Kenya
Djibouti, Somalia or Tanzania v Eritrea or Rwanda
First leg: May 21-23, second: June 4-6
Winners qualify
South Zone
First round
Botswana v South Africa*
Seychelles v Namibia*
Madagascar v Angola*
Swaziland v Zimbabwe*
Malawi v Mozambique*
First leg: March 12-14/ Second leg: March 26-28
Second round
Seychelles or Namibia v Swaziland or Zimbabwe
Botswana or South Africa v Zambia
Madagascar or Angola v Malawi or Mozambique
First leg: May 21-23/ Second leg: June 4-6
Winners qualify
*denotes seeded team