MONUC | Published on July 30, 2009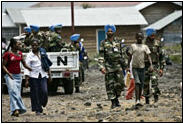 MONUC is training its civilian and military staff on the UN code of conduct in the DRC and calls on the population to guard against any act likely to undermine relations with the Mission. In this regard, a programme was broadcast by Radio Okapi on 24 July last during which MONUC Conduct and Discipline staff briefed listeners on the UN rules.
Mounia Lakhdar-Hamina and Kandi Godia, of the Conduct and Discipline (CDU) unit recalled the importance for staff to conduct themselves well. "Recruited to assist a country beset by various difficulties, MONUC staff are continually watched by the population," said Ms Kandi Godia.
In this respect, they are expected to comply with "the highest standards of conduct required by their private and professional lives." In other words, staff should comply with the UN codes of conduct and the host country's laws, she added.
Ms Lakhdar-Hamina cited, as an example,that staff members were not allowed to commit sexual exploitation or violence. To put it plainly, MONUC staff should refrain from "indulging in sexual activities with minors, those aged under 18 or offering money, jobs, items or services to a prostitute or any other person in exchange for sexual favours," she said.
With a view to preventing such cases of misconduct, CDU developed in 2004 a range of strategies and advice: "Information, sensitisation and training programmes are regularly given to staff across the country. Last year alone 31,000 staff members participated in information and training sessions on sexual abuse and exploitation."
Asked by a Radio Okapi listener what steps to take when a case of complaint is suspected, Ms Lakhdar-Hamina said people could contact their offices established recently in Goma and Bunia; "they could also contact MONUC through the Hotline cell phone number - 081 8907744. She also stressed that MONUC offices were staffed by skilled members able to deal with all complaints.
Are sanctions applied to members found guilty of sexual practices, asked a listener? Yes, she responded. "Sanctions are applied in accordance with the degree of the act committed." The sanctions range from a simple warning to dismissal.
For the year 2008, seven members of MONUC military and police components were returned to their home countries in disciplinary measures following charges of sexual exploitation and abuse.
We are happy to note that since the year 2008, the cases of category 1 allegations that include sexual abuse and exploitation as well as cases of fraud and criminal activities have markedly decreased.
66 allegations (including 38 cases of sexual abuse) were reported in 2007, as opposed to 56 allegations (including 48 of sexual abuse) in 2008.