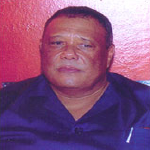 Senator Jeannot Bemba Saolona died on Wednesday night at the Saint-Jean hospital in Brussels. He was one of the most well-known Congolese businessmen and the father of former Vice-President Jean-Pierre Bemba.
On Monday, he was present at a public hearing held at the International Criminal Court in the Hague on whether his son should remain in prison before his trial.
Born in Libanga, northern Equateur Province, he was a close friend of former President Mobutu Sese Seko. He spent many years as the head of the association of Congolese businessmen in the 80s and 90s. He was once said to be the richest man in the Democratic Republic of Congo.
In 1999, he was named Minister of the Economy and Industry by former President Laurent-Désiré Kabila. In 2006, he was elected Senator for Equateur Province as a member of the Movement for the Liberation of Congo (MLC), then led by Jean-Pierre Bemba.
The MLC has called off a meeting scheduled for Saturday in Kinshasa in light of his death.
President Joseph Kabila sent his condolences on Thursday to the Senate. Mokolo wa Pombo, Vice-President of the Senate, told reporters in Goma that he was saddened by the sudden death of Senator Bemba Saolona, whom he had known and worked with for years.

On the web: Congo News Agency