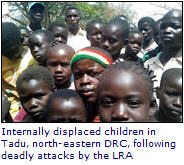 Fresh attacks by Ugandan rebels in northeast Democratic Republic of Congo have displaced more than 12,000 civilians, according to aid officials.
"The Lord's Resistance Army burned a dozen houses, stole sheeting provided by aid workers, as well as clothes. They even kidnapped some people," said Aroon Sambia, head of civil society in Dungu territory.
"After these repeated attacks, aid workers distributed plastic sheeting, soap and high-energy biscuits to about 50 displaced households who sought refuge in Dungu's Bamokandi district," said Nestor Yombo of the UN Office for the Coordination of Humanitarian Affairs (OCHA).
He added that about a third of this fresh wave of displaced people (IDPs) returned home after the army was deployed in the area.
Even before the latest LRA attack, on 24 May, about 100,000 people were sleeping in the open in Dungu because of a lack of sheeting, according to Sambia.
The highest concentration of displaced people is found at Ngilima, Bangadidoruma, Ngangalakilwa and Bitsima settlements, where the average number of IDPs is 15,000, added Sambia.
Several LRA leaders were killed or captured during Operation Lightning Thunder, jointly carried out between December 2008 and March 2009 by the forces of Uganda, Southern Sudan and the Democratic Republic of Congo, with support from the United States.
But LRA units have continued to wreak havoc in the wake of the operation.