VOA News | Published on February 01, 2010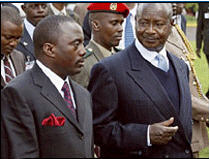 An official of Uganda's government has denied reports that its troops have entered into Beni town in the Democratic Republic of Congo's formerly restive Kivu province.
Uganda's information minister Kabakumba Masiko says there is no need for residents in the Kivu provinces to panic. 
"There are no Uganda soldiers in DRC and I think there is no cause for alarm. What I know is around Christmas, we normally deploy some soldiers to patrol our borders. They could have strayed in Congo, but definitely, as we talk now there are no Ugandan soldiers in Congo, and there is no need for them to worry," she said.
Recently, the governments of Congo, Uganda, and Southern Sudan launched a joint offensive against the Lord's Resistance Army (LRA), an insurgent group out of northern Uganda, whose leaders have outstanding arrest warrants issued by the International Criminal Court (ICC).
Analysts said, however, the offensive failed to arrest or kill the notorious LRA commander Joseph Kony.
Masiko says the joint military offensive against armed groups in the region will continue.
"The arrangement in the Great Lakes region is for all these countries not to host troops or rebels or whoever are hostile to a sister government. If you are talking about the old story, that was long ago when we were chasing Kony in DRC," Masiko said.
But residents of Beni, a town in the northeast of the DRC, report they have seen a battalion-size regiment of Ugandan troops in the area since December.
Omari Kavota, a leading civil society activist in Beni town says residents are expressing skepticism about why the Ugandan troops are in their area.
"I must tell you that there was a move of Ugandan soldiers in Congo. It was about one battalion composed of 560 persons. We are afraid, and the people are afraid (of the Uganda troop presence)," Kavota said.
He said the leaders in the Beni community have alerted President Joseph Kabila's government about the Ugandan troop presence.
Kavota says residents want to be assured of their safety.
"We have told the authorities that they should take troops to the border so that (the) people will be assured," Kavota said.