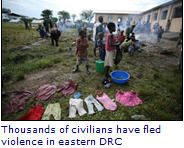 The top United Nations humanitarian official today condemned a resurgence of violence against civilians in the eastern Democratic Republic of the Congo (DRC), amid a serious of offensives against a Rwandan militia group.
"People who have repeatedly been victims of violence in this region are yet again experiencing terror and upheaval," John Holmes, Under Secretary-General for Humanitarian Affairs, said.
Attacks and threats against civilians, in South Kivu province committed by the Democratic Forces for the Liberation of Rwanda (FDLR), comes in response to a planned new phase of Congolese army operations against the militia, he said.
An estimated 100,000 people in South Kivu have been displaced by fear of armed groups since the beginning of the year, according to the UN Office for the Coordination of Humanitarian Affairs (OCHA).
"In the event of intensified fighting between Government forces and armed groups in the weeks ahead, all armed actors in South Kivu must have as a top priority protection of civilians and their livelihoods," he stressed, adding that they must also guarantee safe access for humanitarian workers.
The FDLR and other Rwandan militias have also been a key factor in the resurgence of violence in North Kivu province, where another 100,000 civilians have been uprooted by fighting in the past two months, in addition to the many hundreds of thousands previously displaced.
The ethnic Hutu rebels, who recently carried out a wave of retaliatory attacks against civilians after being targeted by a joint Congolese and Rwandan military offensive, have been operating in eastern DRC since the 1994 genocide of Tutsis and moderate Hutus in Rwanda.
In FDLR-dominated areas of South Kivu, in recent weeks, more than a dozen villages have been pillaged and hundreds of houses set on fire, while in others, FDLR groups are forcing the population to provide them with food, OCHA said.
Rape has also been on the increase in recent weeks – in areas under the control both of the FDLR and of the Congolese army (FARDC). "Women and girls are at the mercy of groups with horrendous records of sexual violence," OCHA said in a news release.
"Those committing violations of humanitarian law will have to answer for their crimes," Mr. Holmes said, urging the Congolese Government to stop and punish abuses committed by its soldiers, and ensure the protection of civilians during these operations.
Meanwhile, Alan Doss, Secretary-General Ban Ki-moon's Special Representative for DRC, has welcomed last week's conviction and sentencing of 20 Congolese army officers by a military tribunal.
The tribunal found that the 20 soldiers committed offences ranging from rape and armed robbery to crimes against humanity, according to the UN peacekeeping mission in the DRC (MONUC), which is led by Mr. Doss.
Human rights experts from the mission monitored the trials, which took place in the north-eastern town of Walikale, to ensure they met international standards, and provided logistical and financial support, MONUC said.