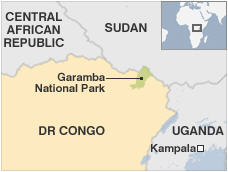 Uganda has begun withdrawing soldiers sent to the Democratic Republic of Congo in December to pursue Lord's Resistance Army rebels.
They have been engaged in a joint operation alongside DR Congo government forces and south Sudanese forces to end brutal LRA attacks on civilians.
However, calls were made in DR Congo to end the Ugandan presence, which amounted to about 300 troops.
The Ugandan army said its campaign against the LRA had been a success.
Around 100 rebels were killed and more than 200 abductees were rescued, Ugandan military spokesman Felix Kulaigye was quoted as saying by the Associated Press.
He added that the DR Congolese army would continue its own operations against the rebels.
An AFP news agency journalist in Dungu, DR Congo, witnessed the start of the Ugandan withdrawal on Sunday.