Warlord Laurent Nkunda Arrested

By Congo News Agency | Published on January 23, 2009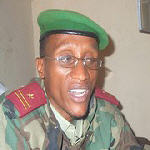 Warlord Laurent Nkunda, the eastern Congo rebel leader accused of numerous war crimes and crimes against humanity, has been arrested in Rwanda while fleeing a joint Congolese-Rwandan military operation to arrest him.
The warlord was arrested Thursday night along the Congolese-Rwandan border in the town of Bunagana. He is being held at an undisclosed location in Rwanda.
Congolese police inspector general John Numbi said in a statement that the Congolese and Rwandan armies "inform the public of the arrest of deposed general Laurent Nkunda Thursday at 10:30 pm while fleeing in Rwandan territory after putting up brief resistance".
The Congolese government welcomed the arrest of the rebel leader and called for his extradition.
The Congolese government issued an international arrest warrant against the warlord in 2005 for war crimes committed in 2004 in the town of Bukavu, in South Kivu province. He has since been accused of many other war crimes by the Congolese government and human rights organisations.