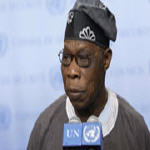 Olusegun Obasanjo
United Nations-backed talks between the Government of the Democratic Republic of the Congo (DRC) and a main rebel group, aimed at finding a peaceful resolution to the strife-ridden country's brutal armed conflict, resumed today after a week-long break.
This round of negotiations is slated to end on 20 December when the two sides are set to adopt a framework for substantive dialogue attempting to end the conflict that has been plaguing the eastern part of the vast DRC.
Olusegun Obasanjo, the Secretary-General's Special Envoy and former Nigerian president, along with Benjamin Mkapa, the former Tanzanian leader, is facilitating the discussions which restarted in the Kenyan capital of Nairobi.
The escalating conflict between Government forces (FARDC) and the rebel National Congress in Defense of the People (CNDP) has uprooted an estimated 250,000 people since late August on top of the 800,000 already displaced in the region, mainly in North Kivu province, which borders Rwanda and Uganda.
Other armed groups, including the Mai Mai, have been involved in the deadly violence – threatening a humanitarian crisis that could spiral out of control – some of which have been along ethnic lines.