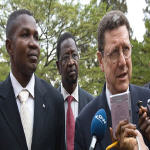 File Photo

The United Nations peacekeeping force in the Democratic Republic of the Congo (DRC) has called for an immediate ceasefire between the Government and rebels, as new clashes broke out today in North Kivu, leading to further displacement in the troubled region.

According to the UN mission, known as MONUC, heavy fighting took place today between DRC armed forces (FARDC) and the National Congress for the Defense of the People (CNDP) near the town of Sake, located some 20 kilometres from Goma, the capital of North Kivu province.

MONUC tried, unsuccessfully, to obtain a ceasefire between the parties, all the while stressing the impact of the fighting on civilians, particularly the tens of thousands of displaced that are already living in camps in the area.

Recent fighting in the eastern part of the vast African nation has been some of the worst in more than a year and a violation of the Actes d'engagement signed by the parties in January.

Earlier this week, the Government approved global disengagement plans provided for in the Actes as prepared by MONUC.

Secretary-General Ban Ki-moon has welcomed the Government's acceptance of the plan and urged it to work closely with MONUC to ensure its timely implementation.

In a statement issued yesterday by his spokesperson, Mr. Ban also called on the CNDP and all other armed groups "to accept and urgently implement" the disengagement plan without further delay.