A final farewell: William Swing receives standing ovation from MONUC staff

By MONUC | Published on December 14, 2007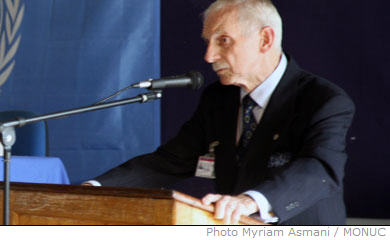 As his final departure from the DRC draws nearer, William Lacy Swing, who directed the United Nations Mission to the DR Congo (MONUC) for 4 years, met with MONUC Kinshasa staff to bid farewell on 12 December 2007.

Mr. Swing thanked MONUC staff at length for all the support he received during his mandate, before demanding the same for his successor.

To his successor Alan Doss, who according to Mr. Swing will arrive in early January 2008, he had only encouraging words: "He is experienced and professional. He is even one of the best professionals of all the 19 Special Representatives in the world, and he knows Congo having worked there as UNDP representative".

This is why he underlined: "You must bring the same support and the same friendship to him."

The Special Representative also underlined to the staff of their mission in DRC.

"Our mission is to help to bring about a final peace and to build the peace in this country which suffered only too much."

He went on to emphasise the background of the mission, from the Lusaka agreements to the transition, the electoral process and the elections, and finally the installation of the various political institutions.

"The route taken is satisfactory, because we did many things, but the east and particularly North Kivu remains a problem," he said with regret in his voice.

"We will continue to give our support for the DRC army with the obligation to protect civilians according to our mandate, and I am sure that we will succeed," he added.

Questioned on the bad perception of MONUC on the part of the Congolese population, William Swing said there was 'indeed a lack of appreciation in relation to what MONUC does.'

"There is often too much hope and state institutions have sometimes very few capacities to fill this hope. Unfortunately MONUC also does not have all the capacities to fill this gap. There is also a lack of information on our part to make us understood, and we will have to do more," he explained.

MONUC force commander General Babacar Gaye spoke on behalf of all MONUC staff to thank William Swing for all that he did for the mission and the DRC, in particular for the remarkable results obtained.

"Only our prayers will accompany you for your health and a long life," he concluded.

The very long public ovation which followed the remarks of General Gaye was without doubt symbolic of the thanks that each member of staff wanted to give to this boss who did not spare his time or health to put himself at the service of the DRC. He is an example to be followed.