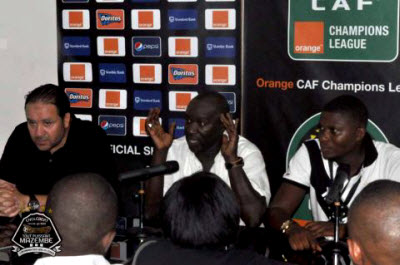 Esperance coach Nabil Maloul and Mazembe coach Lamine N'Diaye during the press conference
The second leg match between Tunisia's Esperance and DR Congo's Mazembe in two weeks in Tunis will be a 50/50 affair. That is the assessment of Esperance coach Nabil Maloul after his side held Mazembe to a goalless draw in the first leg of the Orange CAF Champions League semifinals played in Lubumbashi on Sunday.
Coach Maloul told reporters during a joint press conference with Mazembe coach Lamine N'Diaye after the game that:
"Nothing is decided yet. It's 50/50. For both [teams], the result is a trap because we both have to remain vigilant and focused in the second leg. It will depend on details. The synthetic turf of TP Mazembe's stadium made us uncomfortable. The game will be faster on grass. We tried to counter-attack while knowing that it would be difficult to play on an equal footing on this field and in front of the public. We had to get accustomed because we have been playing in empty stadiums since the revolution. Mazembe had more opportunities, we had some too. To stop Mazembe, which we knew was strong at home -- with individual capabilities able to make a difference at any moment, we had to cut the link between the midfield and the attack. My players applied themselves to this plan rigorously."
Coach N'Diaye agreed with the 50/50 assessment:
"It is always disappointing not to win at home, especially considering the way the game was played. We created several good chances but we lacked efficiency in finishing. I agree with my colleague when he says it's 50/50. Believe me, there are still 90 minutes, or 100, or 120 to play in Tunis. We have 15 days to prepare but unfortunately we will be deprived of 15 players who will be involved in international games during the weekend. We have to wait until they return ... But we will not go to Tunis as designated victims ... I did not see over-confidence from our part but an opponent who, while keeping 10 [players] in defense, prevented us from doing what we wanted to do…"
"People tend to forget that Esperance are the holders of the trophy and a very good team. But I assure you that nothing is done yet," Coach N'Diaye added.
Coach Maloul also praised Mazembe for the "impeccable" reception his team received in DR Congo despite the "psychosis" created before the game.
"I promise you that TP Mazembe will be welcomed with the same quality in Tunisia."