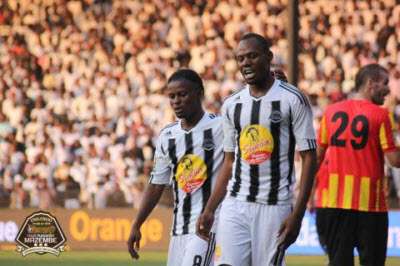 TP Mazembe's Tresor Mputu and Stopilla Sunzu during the semifinals game against Esperance in Lubumbashi on 10.7.2012
DR Congo's TP Mazembe faced a stifling defense from holders Esperance of Tunis in the first leg of their CAF Champions League semifinals on Sunday.
The Crows, playing at home in Lubumbashi, controlled possession most of the game but could not break past the Red and Yellow defense and occasions to score were far and few between.
Tunisia's Esperance were able to keep Tresor Mputu, Deo Kanda and Mbwana Ali Samatta at bay outside the box for most of the game by regrouping in their half of the field, with only one man left forward.
Mazembe finished the game playing at ten after Stopilla Sunzu was sent off in stoppage time. The Zambian international was returning to action after being sidelined with a hamstring injury during the group stage.
The 0-0 draw will be seen as a somewhat good result for Esperance, who will be playing at home in Tunis when the two sides meet again for the second leg in two weeks.
Home field advantage is about all that Esperance will have in the second leg. The defending champions did not impress in Lubumbashi, despite a record-tying 19-game unbeaten streak in the Champions League that only ended three weeks ago after a loss in an inconsequential game.
The two teams share between them the last three Champions League titles, with Mazembe winning in 2009 and 2010.
The score was in stark contrast with the one in the other Champions League semifinals game played on Saturday in Ijebu-Ode, which saw plenty of goals. Al Ahly of Egypt drew 3-3 with Sunshine Stars of Nigeria.