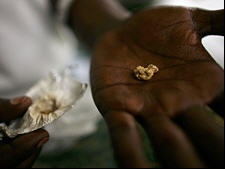 Most of the gold in the region comes from the mines of eastern DR Congo
The first gold refinery in Uganda has opened in the capital, Kampala.
The plant will refine gold from the Democratic Republic of Congo and other countries in the region, including Uganda which discovered gold last year.
The $1.5m (£990,000) refinery is operated by the Russian-owned firm Victoria Gold Star and has the capacity to produce at least 10kg of gold a day.
At the opening ceremony, the company's managing director said his aim was to create a legitimate trade in gold.
"We shall require import and export licence for the gold that we shall refine," Yuri Bogoroditskiy is quoted as saying by Uganda's state-run New Vision newspaper.
Correspondents says Uganda's link with gold has often been controversial as it long has been accused of benefiting from the mines in the war-torn east of DR Congo.
The Ugandan army denied allegations that it looted resources during its involvement in DR Congo's five-year war that ended in 2002.
Rebels based in DR Congo continue to be suspected of smuggling gold through Uganda and other neighbouring countries.