Xinhua | Published on April 04, 2010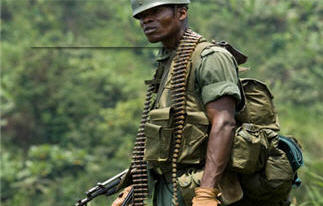 The FARDC, the national army of the Democratic Republic of Congo, has regained control of the northwestern city of Mbandaka, hours after Enyele insurgents claimed to have snatched it in a surprise attack, according to the military.
"The army controls the city and the situation is calm," the governor of Equateur, Jean-Claude Baende, declared late Sunday, adding the Enyele insurgents were routed by the government forces who were pursuing the disbanded elements.
The governor, who has stayed in the capital Kinshasa since last week, said the incursion caused a heavy loss of lives and that some assailants were captured in the fighting. He did not give details.
The slain included a blue helmet from MONUC, the UN peacekeeping mission in DR Congo, who was killed near the Mbandaka airport. The rebels held the airport only briefly.
Provincial Minister of Communication Rebecca Ebale said about 100 insurgents had requisitioned the ship "Malaika" owned by the company GAP before landing at the Congo River port of Bankita. They then launched the raid on the capital city of the province.