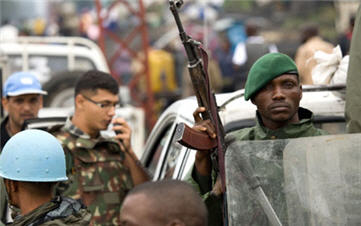 The Democratic Republic of Congo (DR Congo) has ended the "Kimia 2" operation in North Kivu and South Kivu provinces and launched "Amani Leo" (a Kiswahili word for "peace today"), according to the military.
The Kimia 2 command of the army known as FARDC said the new anti-insurgency operation began on Friday and will last three months.
Kimia 2 has already achieved its objectives with nearly 5,000 combatants of the Democratic Forces for the Liberation of Rwanda (FDLR) neutralized by the FARDC with the logistical support from the UN mission in DR Congo (MONUC).
The figure represents 75 percent of the Rwandan Hutu rebels in the two Congolese provinces, the military said in a statement, adding the insurgents were either killed in battles, or repatriated to Rwanda by MONUC.
All the FDLR hiding places were dismantled, their commands and their means of communication dislocated, their leaders chased from the zones they used to control and away from all the regions where they were able to get essential incomes, the document added.
The military hailed the "successful" mission in which the FARDC also lost 211 soldiers in battles with the FDLR and other armed groups. Up to 200 FARDC soldiers were seriously injured and 27 others went missing, it added.
The Amani Leo operation aims to consolidate the surveillance of Rwandan Hutu rebels with a view of eradicating them completely through the rigorous actions launched jointly by the FARDC and MONUC on the ground, the statement said, vowing to be committed to human rights.