Xinhua | Published on December 18, 2009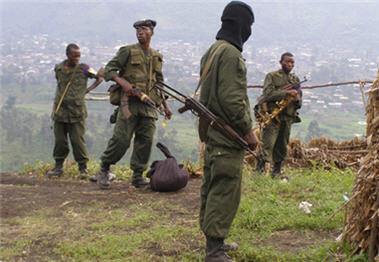 The armed forces of the Democratic Republic of Congo (FARDC) killed more Rwandan rebels including a captain in its anti-insurgency operation in the eastern province of North Kivu, the military said on Thursday.
The communication unit of the Kimia ll operation said in a communique that seven combatants including a captain of the Democratic Forces for the Liberation of Rwanda (FDLR) were killed on Tuesday, when the FARDC also seized three AK47 rifles.
Combats against these Rwandan Hutu rebels were reported in the areas of Nyanzale, Bukumbirwa and Kanyabayonga within the Rutshuru territory. One FARDC soldier was killed.
In their frantic retreat, the FDLR rebels attacked and looted the villages of Kayilenge and Ngenge on Tuesday night, without report of losses of life, the communique said.
The military also announced the return of the 27 FARDC soldiers taken hostage for three weeks by lieutenant-colonel Nsengiyumva, an officer who had deserted the FARDC and joined the FDLR camp.
The FARDC had killed dozens of FDLR rebels in previous attacks in both North Kivu and South Kivu provinces with the backing of the UN mission in the DRC (MONUC).
MONUC also said on Thursday in Kinshasa that it had reinforced its deployment in North Kivu in the past days to boost security for the local people.
MONUC called on FDLR members to surrender to the FARDC and MONUC. Since Tuesday, the FARDC has intensified the military operation against the FDLR combatants in the territories of Walikale, Masisi and Rutshuru in North Kivu, where the Hutu rebels have been holed up after committing the 1994 Rwanda massacre.