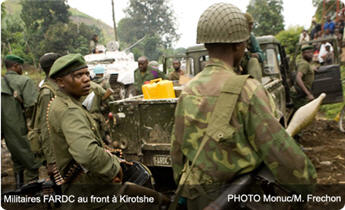 The 321st special intervention battalion of the armed forces of the Democratic Republic of Congo (FARDC) coming from Kindu, Maniema province entered the troubled Dongo area in Equateur province, the military and UN sources confirmed late Monday.
Dongo was the theatre of ethnic confrontations since the end of October, in which hundreds of people were killed including police officers. Thousands of others have been displaced, including 74,000 fleeing into the neighboring Republic of Congo.
The FARDC entered Dongo without meeting any resistance on Sunday afternoon, according to the district commissioner of South Ubangi, Jean Baptiste Lumbwe.
After the FARDC deployment, the UN mission in the DRC (MONUC) decided to patrol the Bozene-Bobito-Dongo route on Monday.
On Sunday night, the regular police took control of the Gemena-Dongo route after five days of advancement. A security source who declined to be identified said the last combats they encountered from the Enyele insurgents occurred on Tuesday.
The UN military source said that there was logistical support from MONUC in the advancement by the regular Congolese police towards Dongo.
The armed youths from the Enyele tribe started attacking on Oct.30 on the Boba tribe over the control of fishing points. But when they were carried away by their victories, they formed a rebel movement and began to take away some other localities like Buburu in the Gemena district.