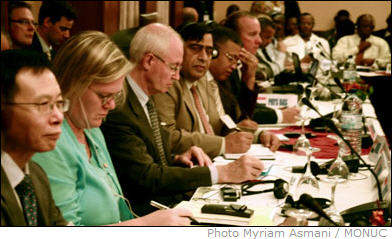 A contact group workshop on the reform of the army in the DRC, organized by the DRC Ministry of Defence and war veterans, was held from 12 to 13 July 2007 in Kinshasa. The aim was to examine the fundamental needs for the reform of the army, in order to format a roadmap of a programme which will be presented in September.

The contact group primarily involves a range of bilateral partnerships with the United Nations, the EU, USA, France, China, Belgium, South Africa, Angola, India, Egypt and Morocco, among others.

In presenting the National Plan for Disarmament, Demobilization and Reintegration (PNDDR), the DRC Minister for Defence Chikez Diemu stated that to date the plan accomplished some real results: 99,750 demobilised including 30,219 children, 53,427 voluntarily reintegarted, 104,455 weapons verified and recovered and 44,816 trained and demobilised. But according to the minister, 101,734 troops have still not entered the process.

The Defense Minister presented the DRC strategic defence vision, based on three levels; to complete the DDR and integration process in the short term; to carry out the rebuilding and restructuring of the army in the medium term; and in the long term to have a complete territorial force to defend the country within five years.

Moreover, Mr. Diemu expalined that the suspension of the DDR programme since December 2006 was due to lack of financing, incomplete reintegration, a lack of funds for integration, and finally the refusal of troops from certain groups to join the process.

Among those present at this meeting was Mr. William Swing, the UN Special Representative for the Secretary General in the DRC, Carlo De Filippi, the head of the European Union in the DRC, members of the DRC government, the presidents of the commissions of security and defence of both chambers of parliament, as well as the Chief of Staff of the Armed Forces of the DRC (FARDC).