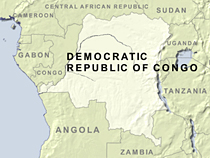 Democratic Republic of Congo

In the Democratic Republic of Congo's eastern territory, local officials say suspected Rwandan rebels have brutally attacked and killed villagers.

A humanitarian worker says he visited the South Kivu area, 50 kilometers west of Bukavu, where the attack occurred late Saturday. He says witnesses in the town of Kanyola told him rebels killed 17 villagers there, wounded 28 others, and kidnapped another 12.

Witnesses said the attackers used knives and machetes to kill and maim villagers.

The United Nations mission in Congo could not verify details of the attack, but a U.N. spokesman says a team is traveling to Kanyola to investigate.

A Rwandan Hutu militia (Democratic Forces for the Liberation of Rwanda, or FLDR) has operated in eastern DRC for more than a decade. Many of its members fled from Rwandan territory after taking part in the slaughter of 800,000 people in 1994.

Congo's government has been trying to establish full control of the east by subduing militias or integrating them into the national army.

The Democratic Republic of Congo is still trying to recover from a five-year war that ended in 2002. The conflict dragged in several neighboring countries and killed four million people, mostly through hunger and disease.

Some information for this report was provided by AFP, AP and Reuters.