MONUC | Published on May 02, 2007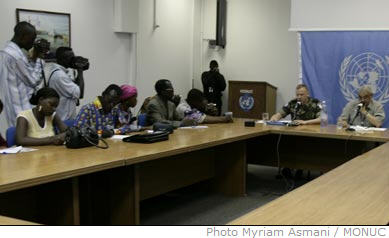 At its weekly press conference on May 2 2007, MONUC declared that it is continuing identification missions of the displacement zones in North and South Kivu following the military operations by the Congolese Armed Forces (FARDC) against the Democratic Forces for the liberation of Rwanda (FDLR).

In North Kivu, according to MONUC military spokesperson Major Gabriel de Brosses, these operations led to the displacement of 890 people. MONUC is following up with the displacement of the civilian population in Kanyabayonga - Kirumba axis West of Rutshuru territory.

MONUC Civil Affairs Section has developed a strategy of five lines to protect the civilian population. It consists of continuing identification missions for the displacement zones and for the needs of concerned people; mobilizing MONUC military resources to help the humanitarians organizations have safe access to the concerned persons; jointly planning the deployment of Mobile Operating Bases (MOB); constantly exchanging information between MONUC and the humanitarian community; and finally sensitizing the military authorities on international human rights respect and the distinction between combatants and non combatants.

On the military plan, the operations of April 25 last made the FDLR troops to escape to the direction of Kikuku where 25 men lost their lives.

In Rutshuru territory and according to the FARDC, the FDLR have lost 17 men and seven arms.

"The FARDC also led some operations in Nyamitwitwi, Rive, Busesa and Kabuhendo during which a few FDLR officers and four FARDC soldiers have been killed. The four camps of the FDLR in these villages have been destroyed by the FARDC," explained Major de Brosses.

In order to follow the progress of FARDC operations, "MONUC modified its plans by withdrawing its MOB from Nyamilima to establish it on April 28 in Rwindi. Another MOB has been put in place in Kamangao, 80 km North-east of Beni," he said.

In South Kivu, the combing operations of the FARDC and MONUC, East of Nindja forest, have ended. The camps that were occupied by the FDLR/Rasta are now under the FARDC control.

In the same province, MONUC Civil Affairs Section sent a team to Shabunda territory last April 26 and 27 to asses the security conditions in Walungu and Kabare territories and to gather information on the movements of the FDLR/Rasta.

However, according to MONUC Spokesperson Kemal Saïki, "no massive displacement has been confirmed at the moment in the territory, despite an increased inaccessibility and instability, due to the absence of the FARDC troops and the reported passing of the FDLR elements who are retreating to the Ouest.

In Ituri, Peter Karim, Commander of the FNI, has announce the rallying of 500 additional militiamen starting May 5 2007. In order to accommodate them in Kpandroma, 258 ex-combatants were escorted by MONUC units to Rwanpara to join the brassage center in Kisangani.