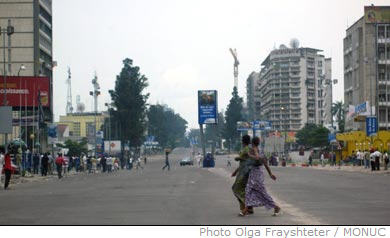 Calm has returned to Kinshasa this Saturday March 24 2007, after two days of heavy fighting in the central district of Gombe between members of ex vice President's Bemba's guards and the Congolese Armed Forces (FARDC), which claimed the lives of at least 60 people, and left many wounded.

Among the dead and wounded were members of Bemba's guards, the FARDC and the Congolese National Police, as well as Congolese and expatriate civilians.

Normality is slowly returning to Kinshasa, with traffic beginning to circulate freely, although the majority of shops remain shut in Gombe, which experienced much looting during the two day conflict.

The DRC government called on all of Bemba's guards to surrender, and MONUC is assisting in this process with the setting up of a regroupment centre at the "Mousse" factory, in the suburb of Lumumba, just south of Ndolo airport.

MONUC military spokesperson Lieutenant Colonel Didier Rancher said that the regroupment point will be open day and night.

"The centre will be secured by Senegalese blue helmets, and will allow Bemba's guards to present or surrender themselves, where medical care will be given to the wounded," he said.

In an official statement yesterday, the DRC government pronounced that Jean Pierre Bemba had 'betrayed the Republic', in conformance with the DRC constitution, and stated that he and 'his accomplices would be brought before justice.'

Yesterday it was confirmed that Mr. Bemba, who is a member of the DRC senate, had sought refuge in the South African embassy.

MONUC continues to monitor the security situation in Kinshasa, with frequent military patrols in Gombe and other districts.

In an official statement, MONUC welcomed 'the restoration of order in Kinshasa by government forces, although it deeply regrets that force was used to resolve a situation that could and should have been settled through dialogue'.

"MONUC also deplores the loss of life, the damage to property, the looting and the serious risks caused to civilians living in the capital. The DRC Government has assumed its responsibilities in resolving this situation. Accordingly, MONUC calls on the Government to continue to act responsibly in its handling of the follow-up," MONUC said.

"The Government will have to restore confidence in its judgement by the way in which it treats the defeated militia, who have largely now surrendered. MONUC expects that the Government will act towards them in accordance with international legal norms, as set forth in the Geneva Conventions," MONUC concluded.