Situation calm in Bas-Congo province

MONUC | Published on February 02, 2007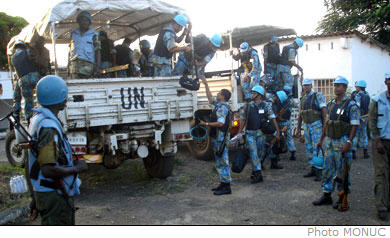 Following the violent unrest that erupted in Matadi on Wednesday night January 31 2007, and which later spread to the towns of Muanda and Boma on Thursday February 1 last, the situation in the province of Bas-Congo has returned to normal today.

MONUC's Matadi office reported that the situation has returned to normal, with shops, schools and offices functioning, and traffic now circulating again around the town.

The local authorities also reported that the situation is now calm and under control, and this was confirmed in the other major towns of Boma and Kimpese.

Tension still remains high in the seaside town of Muanda, and there has been unconfirmed indiscriminate killings of Bundu Dia Kongo (BDK) members, the political religious sect that was involved in the violent unrest of the past days.

Although the official death toll for the province cannot be exactly confirmed, it is now estimated that more than sixty people have died as a result of the violence, with a substantial number of FARDC (DRC army) and PNC (DRC Police) deaths.

As a security precaution against further violence, MONUC has moved 30 members of the Bangladeshi formed police unit (FPU) to Matadi, who are specially trained and equipped to deal with crowd violence and riots.

A further 30 members of the Bangladeshi FPU are expected to arrive in the coming days.

An investigation into the exact cause of the unrest, which erupted in Matadi on January 31 when the PNC raided a house of BDK leader Ne Muanda Nsemi, is now underway.

The BDK had planned a protest in Matadi on February 1, to "denounce senatorial and governor election corruption", targeting in particular the election of AMP candidate Simon Mbatshi as governor of Bas Congo.