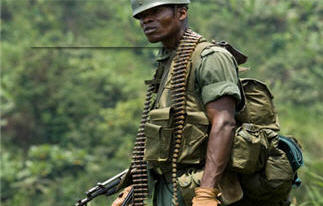 The army of the Democratic Republic of Congo (DRC) has killed more than 1,200 rebels of the Democratic Forces for the Liberation of Rwanda (FDLR) in North Kivu and South Kivu provinces since February, the military announced on Wednesday.
Sylvain Ekenge, spokesman of the Kimia ll operation launched in February, said the army known as FARDC would continue its hunt down on Rwandan Hutu rebels.
"Today, there are 1,279 FDLR who have been killed and 1,247 combatants who were repatriated by December 4," he said, adding that "with the help of the UNHCR, we have managed to repatriate 8,780 civilians and we believe that among these civilians, there is a big number of combatants who had surrendered."
"We are proud to tell you that all FDLR hideouts were dismantled and a number of materials were recovered including 810 guns," he declared.
Ekenge said the attacks by the FDLR on civilians in the past few weeks in the two provinces constituted a sign of "helplessness of these Rwandan Hutu rebels."