Goma: MONUC's hospital provides essential support to the mission and the FARDC

By MONUC | Published on November 18, 2009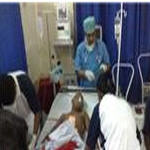 The MONUC Indian Level 3 Hospital in Goma, is a modern state of the art facility that treats MONUC staff and FARDC casualties, assists medical NGOs and treats the local population. Since its inception in March 2005, hospital staff have worked in a professional, systematic and diligent manner, giving the hospital the reputation of a premier healthcare facility.

The hospital is well equipped with state of the art equipment including advanced surgical machines, operating under the expert supervision of a competent, experienced and dedicated team of specialists and assistants.

The hospital provides medical coverage to a large UN contingent of military and civilian staff deployed in North Kivu, treating routine diseases such as malaria, as well as cardiovascular emergencies and organ dysfunctions. In addition, a number of DRC Armed Forces (FARDC) casualties, some with complex gun shot wounds, have been treated successfully.

Women with gynecological problems regularly visit, as well as pregnant ladies for antenatal care. The orthopedic and ophthalmology departments have been proactively assisting organizations like Heal Africa and Bethesda Eye Hospital, in treating many challenging and complex cases.

Furthermore, the resident ophthalmologist in collaboration with Bethesda Eye Hospital has conducted eye camps for more then 80 schools in and around Goma. This has further enhanced the image of MONUC and has enhanced its relationship with the local population.