VOA News | Published on September 16, 2009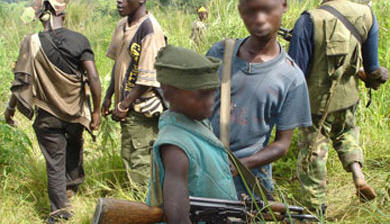 The U.N. Special Representative of the Secretary-General for Children and Armed Conflict says the past year has been terrible for children in war-torn regions. In a report submitted to the U.N. Human Rights Council, the Special Representative highlights the grave situation of child soldiers and other children in a number of conflicts around the world.

On a positive note, the United Nations estimates the number of child soldiers worldwide has fallen to 250,000 compared to 300,000 five years ago.

U.N. Special Representative Radhika Coomaraswamy says during the past year, a significant number of child soldiers were released by the National Liberation Forces in Burundi and more children are to be released in the Central African Republic and the Philippines as a result of active intervention by the United Nations.

But for the most part, she says negative developments far outweigh the positive ones. In particular, Coomaraswamy highlights the plight of child soldiers in ferocious conflicts in Gaza, Sri Lanka, Pakistan, Democratic Republic of the Congo, Iraq and Afghanistan.

In all of these conflicts, she says child soldiers and other children have suffered high casualty rates and grave violations. Many have become internally displaced.

She says the situation of children in internment camps in Sri Lanka is a matter of real concern.

"We feel that they should be allowed freedom of movement and reunited with their families and given complete access to humanitarian assistance," said Coomaraswamy. "We also feel that former child soldiers should be given assistance and be quickly reunited with their families rather than kept in detention."

In her report to the U.N. Human Rights Council, the special representative catalogues the terrible violations against children in Gaza, noting what they have suffered is beyond words.

She says fighting between government and Hutu rebel groups in the Democratic Republic of Congo has resulted in a great many children being killed and maimed.

She says many children in the North-West Frontier Province of Pakistan have been forcibly recruited by the militants and allegedly trained to become informants, fighters or suicide bombers.

Coomaraswamy says she is also very concerned about the changing nature of conflict, especially in the fight between terrorism and counter terrorism.

"Children, many of them are used as suicide bombers as well as fighters, on the one hand, that girls schools are attacked on the other. But, we also have a situation where large numbers of children are arrested and detained in the counter-terrorism activity," she said. "And, this is of concern to us. We also are concerned about the collateral damage that often results with child victims."

Coomaraswamy says it is critical for the international community to remain steadfast and determined to make those who violate the rights of children be held accountable. She says those who commit these crimes should be punished.