Xinhua | Published on July 29, 2009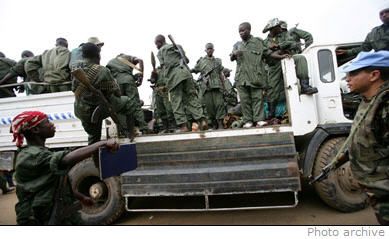 DR Congo government troops have captured the command headquarter of the Democratic Forces for the Liberation of Rwanda (FDLR), an anti-government group, in Kashindaba, a military commander declared on Wednesday.
Government forces launched strikes on the rebel's strongholds in Bushale and Kashindaba at 5 a.m. on Monday, and seized the two strongholds, said Colonel Delphin Kayimbi, commander of the Operation Kimia-II in South Kivu province.
Fourteen FDLR combatants were killed in Bushale with no casualties from government forces, said the commander without specifying the casualties in Kashindaba.
Operation Kimia-II was launched jointly by the UN Organization Mission in the Democratic Republic of Congo and the DR Congo military in early May, to clear up FDLR remnants in eastern part of the country.
The FDLR is a loosely-organized military group composed of ex-Rwanda regime forces and Hutu militia involved in the massacre of ethnic Tutsis and Hutu moderates in Rwanda in 1994.
FDLR units frequently committed crimes in the eastern regions of DR Congo and crossed the border into Rwanda, causing serious threat to the security of the two countries.