Xinhua | Published on July 15, 2009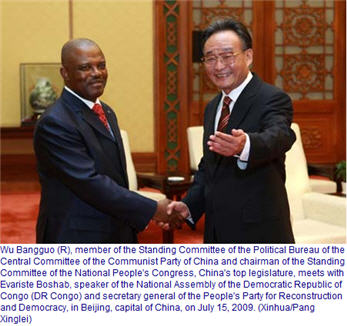 China and the Democratic Republic of Congo (DR Congo) agreed on Wednesday to strengthen bonds between parliaments and ruling parties.
The agreement was reached in a meeting between China's top legislator Wu Bangguo and Evariste Boshab, speaker of the DR Congo's National Assembly and secretary general of the People's Party for Reconstruction and Democracy (PPRD), the country's ruling party.
Wu praised the vibrant exchanges between governments, parliaments and political parties, and trade, military and education cooperation and close coordination in regional and international affairs.
Wu, chairman of the Standing Committee of the National People's Congress (NPC), China's top legislature, said China appreciated the support of DR Congo on major issues concerning China's core interests.
He vowed to continue support for the DR Congo in its efforts to maintain national security and social stability.
The DR Congo was an important cooperative partner in Africa, and the Chinese government and the ruling party were ready to strengthen exchanges and explore new ways to step up cooperation.
Boshab told Wu Congo's government and ruling party had made a strategic decision to develop relations with China. His country appreciated China's domestic and foreign policies.
He called for closer cooperation in trade, infrastructure construction, energy and resources.
Wu said he hoped the Chinese NPC and the DR Congo's National Assembly would strengthen dialogue among special committees while maintaining high-level exchanges.
Boshab rejected criticism of China-Africa cooperation as "new colonialism" at a joint press conference with the Chinese media, saying that only African and Chinese peoples were in the position to comment truthfully on the Africa-China cooperation.
"Those critics, bearing their own ulterior motives, only hope to see Africa always struggling in poverty and wars," Boshab said through a Chinese translator.
Boshab said the use of the word "neocolonialism" to tar Africa-China cooperation only aimed to frustrate China and force African countries to return to the past colonialists for cooperation.
"Ever since we succeeded in national independence, we found China as a good partner for cooperation...and it's our own choice (to cooperate with China) and no matter what those critics may say, we will adhere to our choice to develop cooperation with China," Boshab said.
China never had a history of colonialism and always honored the principles of equality, mutual respect and mutual benefit when promoting cooperation with African countries, unlike the countries that used to colonized Africa, Boshab said.
He cited China-DR Congo cooperation as an example of the benefits of cooperation in fields such as trade, infrastructure, public health and education, especially to the Congolese people.
"As a country torn by wars and just starting its efforts on post-war construction, the DR Congo values its cooperative relations with China. To us, it's vital for our national development," Boshab said.
Boshab's fourth visit to China, from July 13 to 19, is at the invitation of the Communist Party of China.