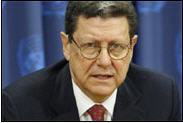 Civilians are bearing the brunt of attempts to dismantle armed groups in the eastern Democratic Republic of the Congo (DRC), with the rebels carrying out vicious reprisals and some Government soldiers committing serious human rights abuses, the senior United Nations official to the country told the Security Council today.
Alan Doss, the Secretary-General's Special Representative and the head of the UN peacekeeping mission in the DRC (known as MONUC), said in a briefing to Council members that there is growing concern about the humanitarian impact of the efforts to disband the armed groups.
"We take these concerns very seriously and have addressed them with the Government at various levels," he said, citing the deployment of more MONUC resources and personnel to the affected provinces, such as North Kivu, continuing efforts to combat sexual and gender-based violence, and increased pressure on the Government to take action against undisciplined soldiers.
"MONUC has established 35 military bases in North Kivu, many of which are in very remote areas, where operations against the FDLR [the Forces Démocratiques de Liberation du Rwanda, one of the rebel groups] are ongoing. These bases have allowed for close monitoring of the operations and rapid intervention in a number of instances."
But he warned that the Mission's resources are being stretched thin as it waits for reinforcements to arrive following the Security Council's recent authorization of additional troops to deal with the strife in the DRC's east.
In an op-ed article published in The Washington Times today, Mr. Doss urged the Government to do its utmost to ensure discipline and end impunity within the ranks of its forces, which are known as the FARDC.
"People have to trust in those sent to protect them, and the army needs local cooperation to root out the FDLR," he wrote. But he added that that discipline will not improve unless pay and living conditions are enhanced for Congolese soldiers.
"This means barracks, sufficient food and wages paid in full and on time. Military families need shelter and protection as well… Donor partners must dig deeper to help the Congo deal with this crisis and fund the reforms that can help the army gain the confidence of the people."
Mr. Doss told the Council that he welcomed this week's announcement by the FARDC of a zero tolerance policy towards the perpetrators of criminal acts within its ranks.
He also called for more determined action against FDLR leaders in exile, who have been able to operate from abroad and maintain contacts with their commanders on the ground.
Later, in a press statement, the Council expressed grave concern about the ongoing human rights violations against civilians, particularly the widespread sexual violence and the recruitment and use of child soldiers by rebels groups and some elements of the FARDC.
Council members also encouraged MONUC to continue to monitor the performance and conduct of the army units involved in joint operations against armed groups.