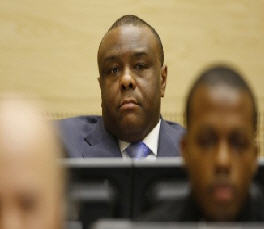 The Hague-based International Criminal Court has ordered the Democratic Republic of Congo's former Vice President Jean-Pierre Bemba to go on trial on five charges of war crimes and crimes against humanity. Lisa Bryant has more from Paris.
A statement from the court said that a panel of judges had found there was sufficient evidence to believe that former Congolese Vice President Jean-Pierre Bemba was criminally responsible for murder, rape and pillaging.
Those atrocities took place in the Central African Republic between 2002 and 2003. Prosecutors claim Bemba sent up to 1,500 troops to CAR to retain control of a Congolese border area.
But Bemba's defense attorneys argue that the troops were not under Bemba's command. In an interview with French radio earlier this year, one of Bemba's lawyers, Nkwebe Liriss, laid the blame on former Central African Republic President Ange-Felix Patasse.
Liriss argued that prosecutors had absolutely no proof against Bemba. He said Bemba might have been in telephone contact with the troops, but that all of the orders were given by Patasse and his government. Mr. Patasse, he said, not Bemba, should be on trial in The Hague.
The son of a rich businessman, Bemba ruled over a vast area of northeastern Congo as a warlord. In 2006, he lost to Joseph Kabila in a bitterly disputed Congolese presidential election. A year later, his private militia was routed by government forces and in 2008, Bemba was arrested during a visit to Brussels.
Bemba is the most senior personality in the criminal court's custody. The court has an arrest warrant out for Sudanese President Omar al-Bashir.