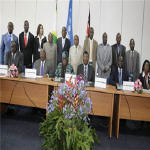 The UN-backed talks between the Democratic Republic of Congo (DR Congo) and eastern rebel group which began in Nairobi last month in a bid to end the bloody conflict has been suspended after the arrest of the rebel leader Gen. Laurent Nkunda.
A spokesperson for the Secretary-General's Special Envoy for the Great Lakes Region and chief mediator for the talks, Olusegun Obasanjo, announced in a statement received here on Saturday that the talks, which had been scheduled to resume on Jan. 25 will now re-convene at a date to be determined following the upcoming African Union summit in Addis Ababa.
"Taking into consideration the recent developments in the DR Congo, the co-mediators hereby announce the postponement of the next Session of the Dialogue on the Crises in the Eastern DR Congo," the statement said.
The developments came after Rwanda and the DR Congo announced on Friday the arrest in Rwandan territory of DR Congolese Tutsi rebel leader during a joint military operation against rebels on their Great Lakes border.
Nkunda has led a Tutsi rebellion in eastern DR Congo since 2004and is wanted for war crimes.
The statement said the co-mediators will consult with regional leaders of the African Union and the International Conference on the Great Lakes Region, during the upcoming summit to be held next week in Addis Ababa.
"The next session of the Dialogue will be convened after the consultations. The co-mediators do not see the current situation on the ground as a setback to the mediation," the statement said.
The co-mediators called on the parties to take further steps to improve conditions for humanitarian access in order to improve the quality of lives of those affected by the crisis.
Fighting between Nkunda's mainly Tutsi rebel militia, the National Congress in Defense of the People (CNDP), and DR Congolese government forces have uprooted an estimated 250,000 people since late August, on top of the 800,000 already displaced in the region, mainly in North Kivu province which borders Rwanda and Uganda.
Recently the governments of DR Congo and Rwanda have been engaged in an ongoing joint military operation in eastern DR Congo against the Democratic Forces for the Liberation of Rwanda (FDLR), an armed Hutu group which has been in eastern DRC since the Rwandan genocide in 1994.
The UN peacekeeping operation in the DR Congo, MONUC, said the arrest took place in Rwanda, according to information provided by the Joint Operational Command.