By North Dakota National Guard Joint Force Headquarters Public Affairs | Published on September 10, 2010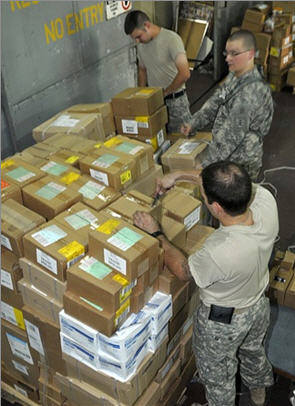 KINSHASA, Democratic Republic of Congo - Members of the 814th Area Support Medical Company, Bismarck and Grand Forks, North Dakota sort through medical supplies in preparation for MEDFLAG 10. Participants arrived in Kinshasa, Democratic Republic of Congo to prepare for MEDFLAG 10, a joint medical exercise focused on humanitarian assistance scheduled for September 6-18, 2010 in Kinshasa. (U.S. Army Africa photo)
The North Dakota National Guard's 814th Area Support Medical Company, of Bismarck and Grand Forks, arrived in Kinshasa, Democratic Republic of Congo to participate in MEDFLAG 10, a joint medical exercise focused on humanitarian assistance that will take place September 6-18, 2010.

About 100 U.S. military personnel and 250 Congolese military personnel will work together to increase the combined readiness of their medical forces to respond to humanitarian emergencies.

"This exercise will provide our National Guard medical unit with invaluable experience. It's an opportunity to work within a team to provide humanitarian aid in their area of expertise," said Major General David Sprynczynatyk, North Dakota adjutant general. I am extremely proud of our National Guardsmen as they represent our state on foreign soil."

"This has been a great experience to work side-by-side with fellow soldiers and the other countries that are participating in this exercise. This is definitely a once and a lifetime experience." Said Staff Sergeant Jeremy Sigl, North Dakota National Guard.

MEDFLAG 10 is the latest in a series of exercises involving U.S. military forces and partner militaries in Africa with the aim of establishing and developing military interoperability, regional relationships, synchronization of effort and capacity building.

MEDFLAG is an annual medical exercise that brings together U.S. military personnel with counterparts from militaries throughout Africa. MEDFLAG was initiated in 1987 as a U.S. European Command-sponsored, bilateral medical exercise to facilitate an exchange of medical information and techniques with militaries in Africa. In 2009, the MEDFLAG exercise transitioned to AFRICOM oversight.

U.S. forces participating in the exercise include U.S. Africa Command (AFRICOM); U.S. Army Africa; U.S. Marine Corps; 5th Signal Brigade; 21st Theater Sustainment Command; 139th Mobile Public Affairs Detachment, Illinois Army National Guard; 349th and 482nd Aeromedical Dental Squadrons; 404th Civil Affairs; 409th Contracting; 814th Medical Company, North Dakota Army National Guard; 772nd Civil Support Team; the 943rd and 940th Aeromedical Dental Flights; Naval Reserve Support Activity, New Orleans Team; and the 943rd and 940th Aeromedical Dental Flights.

Congolese forces participating in the exercise include the Unit Medical Immediate Response of the Armed Forces of the Democratic Republic of Congo.

Previous MEDFLAG exercises have taken place in Botswana, Burundi, Cameroon, Cape Verde, Chad, Gabon, Georgia Republic, Ghana, Mauritania, Morocco, Mozambique, Nigeria, Romania, Rwanda, Senegal, South Africa, Swaziland, Lesotho and Malawi.