Xinhua | Published on July 07, 2010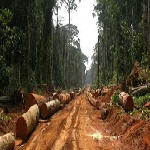 The governor of Equateur province has banned the export of raw timber from his province without prior processing on site.
At a meeting held on Monday in Mbandaka, capital of Equateur province, Governor Jean-Claude Baende urged logging companies to process timber logs on site prior to exporting them, which he said would provide work to the residents of the province.
"These companies have to build sawmills at the different locations where timber is extracted to create jobs. This measure is justified by the renegotiated contracts signed with villagers. The intent is to contribute to the sustainable development of local communities," Jean-Claude Baende said.
He added that the measure is in effect since July 1, in accordance with these agreements.

On the web: Congo News Agency | Xinhua article