Xinhua | Published on February 12, 2010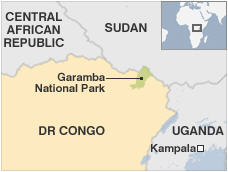 The Sudanese Ambassador to the Democratic Republic of Congo (DR Congo) Anthony Kon declared on Thursday in Kinshasa that there were no Sudanese soldiers on the Congolese territory.
"There isn't any Sudanese troops within any locality in the eastern part of DR Congo or in the Orientale province which shares a common border with the Sudan," said the Sudanese diplomat accompanied by a senior Sudanese army officer at the end of a meeting with Congolese Foreign Minister Alexis Thambwe Mwamba.
"Our discussions with DR Congo's foreign minister have helped us to clear the air on the dark areas that were still existing between the two countries," Kon said, noting that the presence of a senior Sudanese military officer in Kinshasa was a sign of the excellent relations that exists between Khartoum and Kinshasa.
The diplomat pointed out that minor problems that might arise along the common border could be resolved by the local authorities in the two neighboring provinces in order to strengthen the cross- border cooperation and commercial exchanges.
"There's calm along the border between DR Congo and Sudan," noted the Sudanese ambassador, reiterating that Sudan and DR Congo enjoy good cooperative relations.
He reaffirmed the willingness of the two countries to work together to improve "future relations" which he wished to remain "fruitful and good."
DR Congo and Sudan launched a joint military operation on Dec. 14 2008 against the notorious Ugandan rebel LRA, destroying its main camp in Orientale province which borders Uganda and Sudan.
The military declared that they had wiped out 80 percent of the rebel group at the end of the crackdown in March.