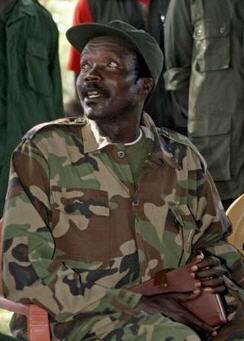 LRA leader Joseph Kony
Some 100 people were slaughtered by a notorious Uganda rebel group in the Democratic Republic of the Congo (DRC) last month, the United Nations humanitarian arm has said.
According to reliable information collected by the Office for the Coordination of Humanitarian Affairs (OCHA), the Lord's Resistance Army attacked the village of Mabanga in north-eastern DRC on 13 January.
The total number of Congolese slain by the LRA in January is still unknown, but OCHA reported that over 80 had been killed in December 2009 alone.
The Office also expressed concern over attacks on camps for internally displaced persons (IDPs).
The mainly Rwandan Hutu rebel group known as the Forces démocratiques de libération du Rwanda (FDLR) reportedly raided the Nyange camp in North Kivu province on 22 January, killing three people.
Government forces have been accused of taking supplies belonging to a non-governmental organization (NGO) in the Muhanga camp, also in North Kivu, disrupting the distribution of items to IDPs. The Congolese Army said that it is investigating the incident and has informed aid agencies that it is taking action against the perpetrators.