MONUC | Published on April 23, 2007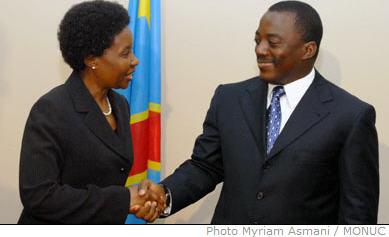 UN Deputy Secretary General Dr. Asha Rose Migiro met with DRC President Joseph Kabila and Prime Minister Antoine Gizenga in Kinshasa this Monday 23 April 2007, as well as National Assembly President Vital Kamerhe, as part of her three day visit to the country.

In a press statement after her morning meeting with President Kabila, she said that she was in the DRC to 'carry a special message from the Secretary General to the President.'

"The DRC was able to hold free and fair elections in 40 years, and this major achievement opens up the ground for peace, security, democratization, rule of law and human rights, which are important components for sustainable development," she said.

During the one hour meeting, Dr. Migiro had an opportunity to exchange ideas with President Kabila on the various challenges that are still facing the DRC.

Dr. Migiro explained that President Kabila understood the importance of continuing to 'work together with the United Nations and the international community in realising the goals of development, the provision of basic services to the people of Congo, as well as dealing with issues of security sector reform.'

She underlined that the UN 'has pledged our continued support and solidarity with the government of the DRC and the Congolese as well, and we will continue the channels of cooperation and consultation to ensure that the goals of development are met.'

"The President has assured us that he wishes to see the cooperation grow between the DRC and the United Nations, and he welcomes United Nations activities here, and that the government will be ready to continue to work with us," she added.

"He assured me of his resolve to continue the democratization process in the country and also to strengthen the various organs, including the parliament, so that they can play the real role of representing the people," Dr. Migiro explained.

After her meeting with Prime Minister Antoine Gizenga, the Deputy Secretary General said Mr.Gizenga 'thanked the United Nations for its involvement in the Congo right from the 60's during the time of Patrice Lumumba up to now.'

"He has appreciated the role of the United Nations and he assured me that the country would like to continue to work with us, and we have told him that the UN is ready and on stand by to cooperate with the government and the Congolese people in implementing its various development plans," Dr. Migiro concluded.

Deputy Secretary General Dr. Migiro is scheduled to meet Fr. Apollinaire Malu Malu, head of the Independent Electoral Commission, as well as Justice Minister Mr. Minsay Booka in Kinshasa on Tuesday April 24.

On Wednesday April 25, the Deputy Secretary General is due to spend the day in Brazzaville meeting UNDP representatives, before departing from Kinshasa on Wednesday night.