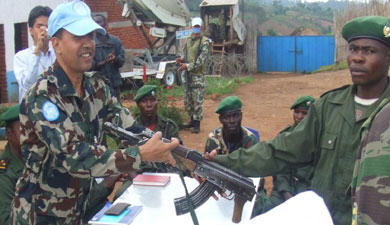 Peter Karim, commander of the last remaining Ituri militia group - the FNI - surrendered to the DRC government with seven of his officers on Saturday 7 April 2007 at Kpandroma, 90 kilometres north east of district capital Bunia.

Peter Karim's eventual surrender was the fruit of intensive negotiations with the DRC government since July 2006, in particular with FARDC (Congolese Armed Forces) Ituri commander General Mayala, along with the assistance of MONUC Bunia's Political Affairs division.

Karim, who has been promoted to the grade of colonel in the FARDC, is now in a transit centre in Kpandroma, along with 340 of his men who previously surrendered.

According to General Mayala, 'around 350' FNI members still remain in the bush.

"The remaining FNI members are subordinates, and all remaining arms will be surrendered as soon as possible," said FNI spokesperson Lieutenant Colonel Désire Lodziringa.

General Mayala said that of the 340 surrendered FNI troops, 100 are now undergoing initial training for integration into the FARDC.

"Once the means are in place, they will be transferred to the brassage* centers of Lukasa, Kisangani, Rumangabo, Kitona or Kamina. They need to undergo brassage as soon as possible."

The General added that 10 FARDC troops, taken hostage by the FNI since December 2006, have now been released.

The FNI surrender process began in earnest on Tuesday 27 February 2007, with the surrender of 170 troops, which was followed two weeks later by the surrender of another 170 of his men.

The FNI, who are accused of numerous crimes against the Ituri civilian population, were responsible for the killing of a Nepalese blue helmet, as well as the kidnapping of eight others in an ambush on 27 May 2006.

Peter Karim's surrender should now bring the chapter of violent armed conflict in Ituri to an end, after countless destruction, human rights violations and an estimated 60,000 deaths in the district since 1999.

* Brassage is the process whereby ex combatants are retrained and integrated into the FARDC - the DRC Armed Forces.