World Bank | Published on March 08, 2007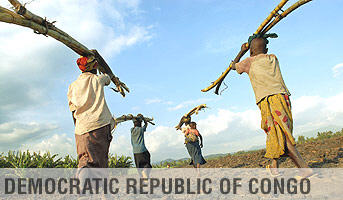 World Bank President Paul Wolfowitz gets a first-hand look today at one of the biggest challenges to the Democratic Republic of the Congo as it emerges from decades of strife.
With fears lingering that a relapse into conflict is still a possibility notably across the coountry's "lawless far east", thousands of former soldiers or militia members are re-learning how to be civilians — embracing jobs, reintegrating families and societies, and even returning to school.
Several of the former soldiers told their personal stories to Wolfowitz at a regional center of the National Commission for Disarmament, Demobilization and Reintegration  (CONADER) in Kisangani at the start of a two-day visit to this resource-rich but poverty-stricken nation of  66 million people.
The World Bank supports DR Congo's transition to peace through a US$100 million Emergency Demobilization and Reintegration Project, funded by the International Development Agency—the arm of the World Bank that provides interest-free credits and grants.
Some 100,595 former soldiers have been demobilized—given up their weapons and left the army or an armed group. Of these, 69,000 are being reintegrated into society.
Militias have also released about 30,000 children who served as child combatants or as sex slaves; 80 percent have been reunited with their families thanks to the program.
Despite the progress, the new DRC government, elected in October 2006, still needs to encourage a further 60,000 to 70,000 armed forces members to return to civilian life—an effort expected to require another US$60 million.
And the government—the first democratically elected in 40 years—has other major challenges.
DRC is one of the poorest countries in Africa, with two-thirds or possibly three-quarters of the population living below the poverty threshold of a dollar a day. Some regions have poverty levels above 80 percent.
Only 60 percent of children are enrolled in primary school, according to the most recent data, and infant mortality—at  1,850 per 100,000 live births—is the highest in Africa.
Social safety net programs are virtually non-existent. Parents pay most of the costs of operating schools, and patients bear most of their health costs.
But as DRC has become more stable over the last year, there have been promising signs for the economy. GDP growth remained above 5 percent in 2006. More than US$1 billion in foreign direct investment flowed to DRC in 2006 despite its ranking as the worst country in the world according to the "Doing Business Indicators."
Though the country's formal economy virtually collapsed in the last few decades, DRC is rich in natural and human resources: fertile soils, ample rainfall, and mineral resources. Mining of copper, cobalt, diamonds, gold, zinc and other metals, as well as petroleum extraction, once accounted for 75 percent of its GDP.
A major peace dividend may therefore accrue from the new opportunity afforded by newfound peace and security to improve the sustainable management of and protection of the country's vast resources, including the forests of the Congo Basin, the second largest rainforest in the world.
Forest Conservation Reforms
Some warn, however, that peace and new roads may bring chaotic development to the forest belt, harm biodiversity, or lead to conflict over traditional rights if efforts to reform forest management don't take hold.
In 2002, acting on Bank advice, DRC canceled illegal forest concessions (rights to harvest trees) affecting over 25 million hectares—an area as large as the United Kingdom.
Last month at a conference in Brussels the new government pledged to boost the country's conservation efforts by maintaining a moratorium on new logging, implementing a legal review of existing concessions, and providing legal recognition for the rights of indigenous people.
The stakes are high. Some 40 million people rely on the forest for their food, medicines, energy and income. Indigenous groups—among them the Pygmies—rely almost entirely on the forest.
The Bank, which administers the Multidonor Forest Trust Fund on behalf of the European Commission, Belgium, France, and the UK, plans to support DRC's reform efforts with a new project, financed with IDA funds, to strengthen the forest department, the nature conservation institute, and civil society organizations.
 
Country Assistance Strategy
The Bank will also support DRC's recovery and reform through a new Country Assistance Strategy, expected to be presented to the Bank's Board in mid-2007.
The CAS will devote resources to:
good governance and peace

macroeconomic stability and economic growth

access to social services and reducing vulnerability

HIV/AIDS

and promotion of community dynamics.
Since 2001, the Bank has committed US$2.4 billion to DRC and disbursed US$1.2 billion.  About US$1.6 billion has been committed to nine projects to support infrastructure rehabilitation, social services delivery, institutional strengthening, consolidating peace and promoting economic stability, and health sector rehabilitation, among other things.