MONUC | Published on February 27, 2007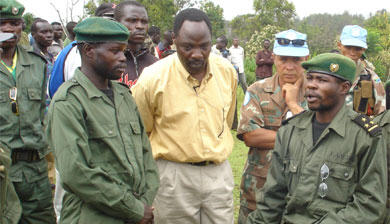 Peter Karim, commander of the FNI - the last remaining militia group in Ituri - made an important first step towards the consolidation of peace in the district on Tuesday February 27, 2007, with the surrender and disarmament of 170 of his troops at Dera, 60km from Kpandroma.

The operation, which was supervised by over 120 South African and Nepalese blue helmets, included the collection of over 25 armaments, including AK-47's, machine guns, anti tank mines and ammunition.

Of the 170 FNI militia members, 42 were identified as children by UNICEF and MONUC Bunia's Child Protection division at the Dera disarmament point.

These children will be cared for in a special camp in Kpandroma, where they will be identified before attempts will be made to reunite them with their families.

The remaining 128 adult FNI troops were transported to a DDR transit camp, also in Kpandroma, which is being managed by the SMI - the Military Integration Structure, a DDR programme administered by the DRC government.

In a rare interview with MONUC, Peter Karim said that he and his senior commanders were unwilling to surrender until an amnesty could be guaranteed by the DRC government.

"I want peace, as does the DRC government. If an amnesty was guaranteed for us, I would be willing to surrender tomorrow."

He added that his group had retreated further into the bush to avoid conflict, and that he was not planning any attacks on the FARDC, who have been increasingly encircling his militia group and cutting its lines of supply.

The surrender of the 170 FNI militia members was the result of three weeks of negotiations with Peter Karim, largely facilitated by MONUC Bunia Political Affairs officer Jacob Mogeni.

"He is following the previous militias's strategy to show us he is serious. This is a good sign, but we have not yet solved the problem. The issue of Peter Karim's demands for amnesty as a condition of surrender is critical, but it's the responsibility of the DRC government to decide," he explained.

He added that he believed the DRC was determined to find a solution to the conflict, and he expected negotiations to continue in the coming weeks.