UN News Centre | Published on February 21, 2007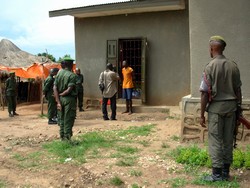 The United Nations peacekeeping mission in the Democratic Republic of Congo (DRC) reported that the human rights situation in the country continues to deteriorate, as the army and police perpetrate acts of violence against civilians and the number of reported rapes surges.
A monthly assessment of the human rights situation in the DRC released yesterday by the UN Mission, known as MONUC, stated that there have been numerous cases in which Congolese soldiers and police have summarily executed and raped civilians, in some cases with apparent impunity.
Late last December, troops from the Armed Forces of DRC (FARDC) allegedly arbitrarily executed 13 civilians, wounded many others and set fire to portions of the villages of Laudjo and Ladhejo close to Bunia in the northeast portion of the country. Although MONUC has not been able to confirm this account due to ongoing military violence in the area, it does give credence to the reliable sources who informed the Mission of this incident.
In western Bandundu Province, a policeman with the National Congolese Police (PNC) reportedly shot a 60-year-old woman when delivering a summons to her daughter who had been raped by another policeman.
There have also been reports of a marked rise in armed robberies and other human rights violations committed by people wearing PNC uniforms, with several civilians being killed in apparent robbery attempts.
The number of rape cases climbed significantly in January in Ituri and South Kivu, both located in eastern DRC.
In Muguma in Ituri, a soldier allegedly raped a woman three times who had been accused of witchcraft, and two young women, one a minor, in Aru in the northeast claimed to have been raped by a FARDC deputy commander on 31 December.
In South Kivu, there have been reports of sexual violence directed against both men and women. Four women, one a Rwandan Hutu, allegedly were raped on 21 January by armed men in uniform when they tried to run away from them. On 8 January, a 21-year-old male civilian was reportedly sexually attacked by an FARDC soldier in Ihusi.
Despite the formal end in 1999 of the brutal civil war which cost 4 million lives through fighting, hunger and disease, the DRC has been beset by unrest. This month saw violent clashes in the western Bas-Congo province which killed more than 130 people, according to the report.
The UN Security Council established MONUC to help carry out the 1999 Lusaka Accord. The mission has some 17,500 uniformed personnel, 3,140 civilian staff and 585 UN volunteers.