Monuc | Published on January 09, 2007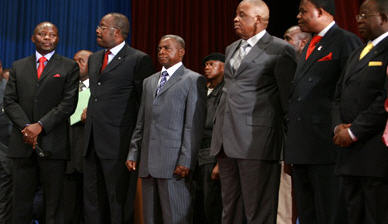 The executive office of the National Assembly of the DRC has been officially installed this Tuesday January 9 2007. The ceremony took place in the People's Palace, in the absence of head of State J. Kabila, who was due to preside over proceedings.

The seven members of the new office, of which all are members of the AMP - the political coalition led by President Joseph Kabila- were elected on December 28 and 29 2006 by the other national deputies.

During the ceremony, which was attended by UN Special Representative Mr. William Swing, the office president Mr. Vital Kamerhe promised to engage with the head of State in the 'fight against impunity, political dishonesty, corruption and immorality that threatens the very fabric of our society'.

"A change in mentality towards good governance must commence first of all within the National Assembly itself, who are responsible as directors of the country and must give a good example," he said.

Equally he promised that "the National Assembly will stamp out unscrupulous members of the government, and those who do not want to change their mentality or attitude. The same goes for all the managers of public services and finances."

According to the President of the Office, the Assembly must work hard on the elabouration of the laws which contribute to the putting in place of a new institutional framework for the third Republic, especially 'the law which defines the organsiation and functions of the political opposition, the law defining their status, the law regarding the revision of the finance law, and the agenda of the state' as well as other organic laws.

According to Article 114 of the constitution, the National Assembly will have two ordinary sessions a year.

The first will begin on March 15 and the second on September 15, with each session lasting up to a maximum of three months.