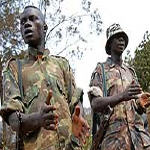 BUNIA, 15 Jun 2006 (IRIN) - Militia active in Ituri District in northeastern Democratic Republic of Congo (DRC) have until 30 June to disarm, according to an ultimatum by the national army and the United Nations Mission in the DRC, known as MONUC.
The army has deployed Brig-Gen Mbuyamba Nsiona from the capital, Kinshasa, to Ituri to take charge of the operation, which is aimed at securing the district ahead of general elections set for 30 July. Speaking in Bunia, the main town in the district, Nsiona said on Thursday that after the expiry of the deadline, militiamen who refuse to surrender would be forcibly disarmed.
Two disarmament sites would be opened from 19 June for those who wish to surrender: one at Aveba, 70km south of Bunia, and one at Kpandroma, 120km north of Bunia. All militia who give themselves up before the deadline would receive amnesty from the government, he said. Upon disarmament, they would receive certificates to distinguish them from militia who had not surrendered.
"There will be no victimisation," Nsiona said, adding that government soldiers who prevent or discourage militia from disarming would be punished.
The DRC's National Commission of Disarmament estimates that out of 16,300 militiamen that had been identified in Ituri, at least 4,000 had defied an earlier disarmament deadline - 30 April - issued by MONUC. A majority of those who are yet to disarm are loyal to a new alliance of several militia groups, the Mouvement révolutionnaires Congolais (MRC).
On Wednesday, at least 121 militiamen gave up their weapons under a joint disarmament operation between MONUC and the National Commission for Disarmament. The militia surrendered in Katoni village, 15km south of Bunia. Katoni is also is home to at least 18,000 people who have been displaced by fighting, said Idrissa Conteh, an information officer with the UN Office for the Coordination of Humanitarian Affairs. Among the surrendered weapons were 47 AK-47 rifles; 16,000 rounds of ammunition; and three bombs, a source at the disarmament commission said.
"Fifty other militias also voluntarily surrendered their weapons to the army," Brig-Gen Nsiona said. Among the militia who surrendered were 31 combatants from Tcheyi, 100km south of Bunia, where the army is fighting the MRC.
MONUC had identified five child soldiers in Tcheyi. "They were spies for the militias," Nsiona said.
A Congolese army captain who requested anonymity said they had information that there were 100 other militiamen who were willing to surrender, "but they are afraid of certain FARDC [Congolese national army] forces on the ground."